For sensitive-skinned Korean girls, this pure squalane has become an obsession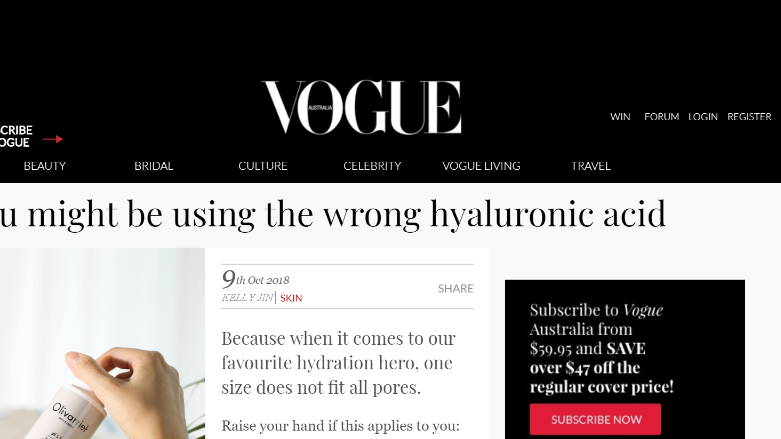 Hi, I am a moisturising facial oil

I will make you GLOW. I am 100% vegetable-based squalane and will hydrate your skin.
I am non-comedogenic (don't clog pores). In fact, I am anti-bacterial and can help you fight that pesky acne.

If you're exposed to the sun a lot, I can help repair your skin's natural barrier by adding moisture.

Watch me in action in the video above.

🍯 tip! Take a couple drops, rub me between your hands then press into your skin after applying foundation. Your skin will look amazingly dewy!

Read about Olivarrier in Vogue Australia :)
Dreamy dry skinned girls, use me twice daily, ooh la la oily girls, use me once in the PM.
1) As the final step in your skincare regimen, after (or instead of) your moisturiser, place 3 drops in your palm and massage into your face.
SHIPPING under AUD70 is a flat rate of AUD7 worldwide when purchasing beauty items, or a bundle that includes beauty items.
SHIPPING over AUD70 is free worldwide for beauty items/bundles and any bundles that include beauty items.
For accessories only bundles, SHIPPING under AUD30 is a flat rate of AUD3 worldwide by using code EARRINGS
For accessories only bundles, SHIPPING over AUD30 is free by using code FREESHIPPING noting that this is for accessories-only bundles that don't have any beauty items since these are much heavier
When purchasing the compact mirror ONLY, please use code VEN for AUD3.50 worldwide shipping.
You might also be into...
More skincare tips from the Girls of YB